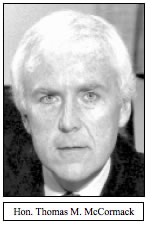 Timmy McCormack – December 10, 2011
This year your Selection Committee has made a unique choice. The Committee has decided to pay tribute to  the  Honorable  Thomas  M. McCormack, J.S.C.  who  passed  away on June 24, 2011.  Known  to most  of  us as "Timmy", he had been previously nominated in an earlier meeting of the Committee. At our final meeting, the Selection Committee decided to honor  Judge McCormack, in spite of his passing.
Tim was admitted to the practice of  law  in  1974  and  co-founded  the firm of McGlynn, McGlynn and McCormack. He continued to practice law in various partnerships  until December of 2001  when he was appointed  a Judge  of the Superior Court of New Jersey, where he continued to  serve  until  his death.
During his tenure as a practicing attorney, Tim served in a number of public and political offices.  He  was  elected  as a Freeholder  for Essex County in 1978 after serving as counsel to the Essex County Board  of Freeholders for  13 years. He also served as Labor Counsel for the cities of Newark and East Orange and the Townships of Irvington and West Orange.
Always proud of his Irish heritage, Tim served as counsel to the Newark  St. Patrick's Day Parade Committee for 10 years and the West Orange St. Patrick's Day Parade Committee. He was honored by the Friendly Sons of St. Patrick of the Oranges as the Young Irishman of the Year in 1980. Tim was a member of numerous Irish organizations including the Friendly Sons of The Shillelagh of the Jersey Shore, which was founded by Tim's brother, George.
Tim was married to his wife, Kay, for 40 years and has two children, Melissa and Michael. Kay continues to reside in Roseland where they raised  their children.