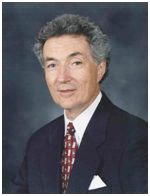 BILL CONNOLLY - December 14, 2013
This year your Selection Committee has selected William H. Connolly, Jr. as the 2013 Honoree. Mr. Connolly became President of William H. Connolly  & Co. in 1983. Bill received his CPCU designation in 1974 after graduating from Fairfield University. He has served on various insurance industry committees including the advisory council of several insurers and most recently, on the Governor's Panel on Malpractice Insurance for the Commissioner of Banking and Insurance.
 For more than twenty-five (25) years, Bill has lead a team of health care insurance and risk management professionals who have created insurance programs for numerous hospitals, religious institutions, colleges and private schools.
 Bill is past president of the Board of Directors of the New Jersey Tooling and Manufacturing Association. He served for six years as a Trustee of Fairfield University. He served as Chairman of the United Health Care Foundation and on the Development Committee of Caldwell College. He has been a Trustee of St. Benedict's Preparatory School in Newark and is currently its Board Chairman.
Bill lives in Montclair, New Jersey with his wife, Melinda. They have three grown children.  His son Jim has joined his father's firm and his other two  children are involved in theatre and movies.