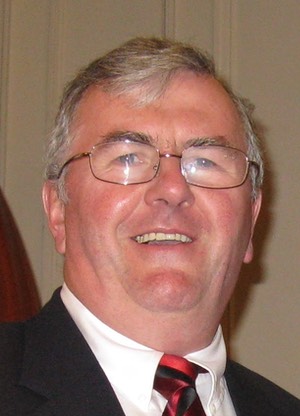 BERNIE O'ROURKE – December 13, 2014
 This year your Selection Committee has selected Bernard O'Rourke as the 2014 Honoree. Bernard (Bernie) O'Rourke hails from Inniskeen, Co.
Monaghan, a rural part of Ireland close to the border with Northern Ireland. He holds degrees from University College, Dublin and Fordham University, New York. He is also a Barrister-at-Law and was admitted to the Irish Bar at the Supreme Court of Ireland in 1972. He moved to the US in 1975 as a vice president of IDA Ireland, the Irish government organization responsible for promoting worldwide inward investment into the country.
Bernie later served as Executive VP of Belleek Ireland Inc., the US marketing and distribution arm of the renowned Belleek Pottery. In 1997, he joined the faculty at Caldwell College (now Caldwell University) and has served as its Associate Dean of Business since 2006.  In 2009, and again in subsequent years, Bernie was named one of the U.S top 100 education professionals of Irish descent as a member of the "Irish Education Top 100".
Bernie is a past president of both the Essex Fells and West Essex Boards of Education and has held leadership positions in the North Essex Chamber of Commerce and the Caldwell University Business Advisory Council. He has also served as president of several regional associations of business academics.
Bernie lives in Essex Fells, New Jersey with his wife, Sheila (née Nolan). They have two daughters, Annie, a California resident, and Claire, who lives in Ireland.