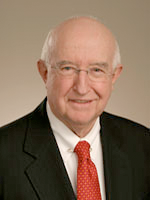 Bill McGuire - December 12, 2015
Bill was born and raised in Newark, New Jersey. After serving in the United States Army, he attended Seton Hall Law School. He received his degree in 1958 and then attended New York University from which he received a Master of Law degree in Taxation in 1963.
 Bill joined the firm of Lum, Fairlie & Foster and became Senior Partner at Lum Biunno &Tompkins, the successor firm to Lum Fairlie & Foster. Ultimately, the firm evolved into Tompkins, McGuire, Wachenfeld and Barry, LLP. Bill also served as Assistant Prosecutor in Essex County in 1964.
 Bill was admitted to practice before the bars of New Jersey and New York, as well as the United States District Court, the Third Circuit Court of Appeals and the United States Supreme Court. Bill received many awards over the years including the prestigious Honorable William J. Brennan, Jr. award. Seton Hall University presented him with the Thomas More award and the Law School named him its "Distinguished Alumnus of the Year" in 1984. Bill was listed in "Who's Who in American Law" for decades and was also listed from its inception in "Best Lawyers in America".
Bill was a long time member of the Essex County Bar Association and served as a Trustee and President of that association. He also was a member of the New Jersey State Bar Association where he served as Officer Trustee and President. Bill was elected a Fellow of the International Academy of Trial Lawyers and a Diplomate of the American Board of Trial Advocates.
 In addition to his legal endeavors, Bill served as a member of the Board of Trustees of St. Barnabas Medical Center. He also served for many years on the Board of Trustees of Delbarton School as well as on the Board of Trustees and Board of Regents at St. Peter's University.
Bill had five children and five grandchildren and is survived by his wife, Lois.