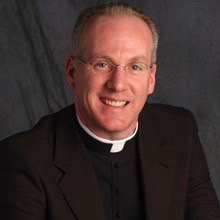 Msgr. Reilly - December 10, 2015
This year your Selection Committee unanimously selected Reverend Monsignor Joseph R.Reilly, S.T.L. Ph.D., as the Honoree.
Monsignor Joseph Reilly is a Mountainside native who was ordained a Priest for service to the Archdiocese of Newark in 1991. His first assignment was as a Parochial Vicar of the Church of St. Andrew, Bayonne, from 1992 to 1994. In 1994, he served as Secretary to Archbishop (now Cardinal) McCarrick. In 1995, he joined the staff of Seton Hall Prep, where he was Assistant to the Headmaster for Admissions and Development, a Theology Instructor and School Chaplain. In 2002, he was named Rector of The College Seminary of St. Andrew's Hall. He was then appointed by the Archbishop as the Rector/Dean of Immaculate Conception Seminary School of Theology in 2012, where he continues to serve with great distinction. He has served as a Weekend Pastoral Associate at Our Lady of the Most Blessed Sacrament Church in Roseland from 1997 to the present.
Monsignor Reilly graduated from Seton Hall University in 1987 with a Bachelor of Arts Degree in Psychology. He earned a Bachelor of Sacred Theology, magna cum laude, in 1990 from the Pontifical Gregorian University in Rome. He received a Licentiate in Sacred Theology (STL), summa cum laude, in 1992 from the Pontificio lstituto Teresianum in Rome. He earned a Doctor of Philosophy (Ph.D.), magna cum laude, in Educational Administration from Fordham University in 2003.
Monsignor Reilly has served as a member of the Archdiocesan Priest Personnel Board, the Advisory Committee on Continuing Education and Ongoing Formation of Priests, the Archdiocesan Vocations Board, the Board of Trustees of Seton Hall University, the Executive Board of the National Association of College Seminaries, serving as its President from 2006 to 2008, a member of the United States Conference of Catholic Bishops, and the Vocations Board and Priest Personnel Policy Board of the Archdiocese of Newark. Pope John Paul II named him a Chaplain to His Holiness in 2005, with the title of Reverend Monsignor.